Business Details
Manufacture and sale of fertilizers and
soil improvement materials
We started as a fertilizer wholesaler, and in 1952 we set up a mixed fertilizer
manufacturing plant in Fujiidera City, Osaka Prefecture,
taking our first steps as a fertilizer manufacturer.
Our salespeople are not limited to simply delivering products to customers,
but they trying to understand the customers' current conditions and needs at their production sites.
They bring this important information back to our manufacturing areas,
and try their very hardest to make our products as close as possible to what food producers want.
Tabletized fertilizer brings out the best in organic fertilizers
At our company, we began paying attention to the utility of organic fertilizer from early on, and we succeeded in developing an easy-to-handle fertilizer in a tablet form (using a kind of briquette manufacturing method) to maximize the benefits of organic fertilizer.
Tabletized fertilizers are environmentally friendly and do not undergo organic deterioration, thanks to the combination of unique techniques we have developed. They have a uniform particle size, and can be easily sown by machine or by hand.
Food producers really love the excellent properties of tabletized fertilizers. We will continue to work together with them, with the aim of making further improvements to this type of product.
Organic compounded fertilizers to meet local needs
Compounding organic fertilizers can be said to be where the field of compounded fertilizers in general got its start.
Compounded fertilizers are ones that can be manufactured in small lots.
We strive to deliver products that meet the needs of our customers to the extent possible, such as by being able to respond to local-order production.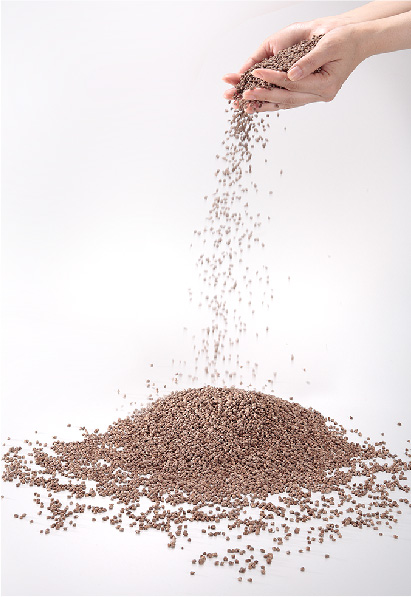 Developing new fertilizers that can be adapted to the latest agricultural technology
Various types of liquid fertilizers are available, such as those that can enhance the efficient absorption of organic components, amino acids, calcium and trace elements, and that are at the same time reasonably priced and contribute to the conservation of labor.
We also handle organic paste fertilizers and other fertilizers that can significantly reduce the effort of the labor needed in paddy fields.
In recent years, we have also been engaged in the manufacture and sale of compounded fertilizers for hydroponics and hydroponic soil-improving compound fertilizers, which provide labor savings and stable crop production, as well as various single fertilizer types.
In addition to the category of fertilizers, we also manufacture and sell various organic and inorganic soil improvement materials.
The Seiwa Group continues to make every effort to remain a company that contributes to the development of all aspects of Japanese agriculture, focusing on fertilizers and other vital materials.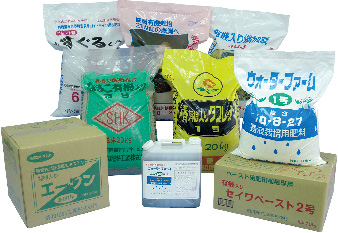 Our Production System
We produce various organic
fertilizers at our four factories
In addition to our proprietary tabletized fertilizer, we produce liquid fertilizers, paste fertilizers, and fertilizers for hydroponics in our four plants, which support the latest in agricultural technology.
We have established a system that provides homogeneous and high-quality fertilizers at low cost.
In addition, we efficiently produce a variety of fertilizers that correspond to climate, natural local features, and the agricultural products grown in each agricultural region in Japan.
We contribute to labor conservation and the improvement of agricultural producers' levels of output.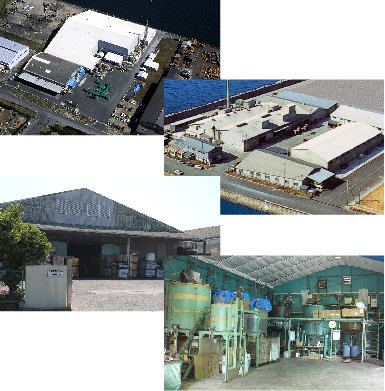 Tabletized fertilizer manufacturing process
Crushing / weighing / mixing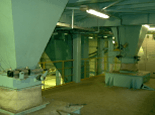 Carefully select raw materials, which are powdered, weighed and mixed to a finely homogeneous state.
Add our uniquely developed granulation accelerator.
Molding and granulation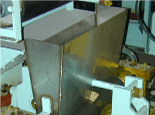 Granulate using an in-house developed molding machine.
The granulation of 100% natural organic animal and plant fertilizer is also possible.
Drying / cooling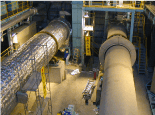 Drying and cooling, with strictly controlled temperatures and times.
The finishing process makes the material into a stable and homogeneous granular fertilizer.
Quality check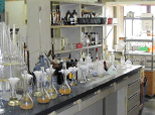 Strict inspections by specialized staff.
Our regular analysis ensures consistent quality.
Packaging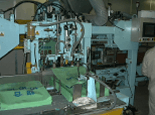 Accurate packaging with an automatic weighing device and fully automatic packaging machine.
The products are stored in the warehouse until shipment.
Our Trading Business
Our Overseas Business Department aims for a promising tomorrow by making an international leap forward. This is accomplished mainly by the Overseas Business Headquarters at our Head Office.
We import and export various products such as fertilizers, agricultural products and chemicals from places such as China, other Asian countries, Australia, etc. and function as an overseas development desk for various products that will meet customer needs.
In 1988, we established the first Japan-China joint fertilizer company in the Japanese fertilizer industry, and a new joint venture company was subsequently established, which developed many original fertilizers using China's abundant resources. We import and sell many high-purity fertilizers that are available for use in hydroponics.
We import and sell production materials such as raw materials for fertilizers, chemical fertilizers, organic fertilizers, soil improvement materials, and gardening materials.
In addition, we import and sell calcium chloride and sodium chloride, which are used for road safety nationwide as anti-icing agents on roads.
What's more, we handle a variety of merchandise such as organic & inorganic chemicals, and pharmaceutical & agrochemical intermediates. We strive to meet diversified needs with accurately tailored products and to provide reliable products every single day.
We provide local agricultural field guidance to support our import and sale of fresh and processed agricultural products, utilizing our own agricultural cultivation techniques, and provide high quality, safe and reliable agricultural products to domestic companies.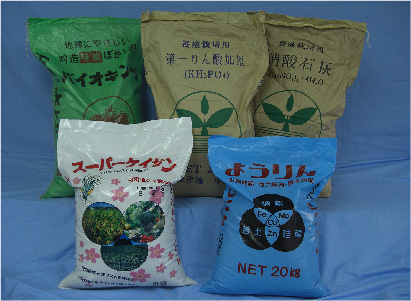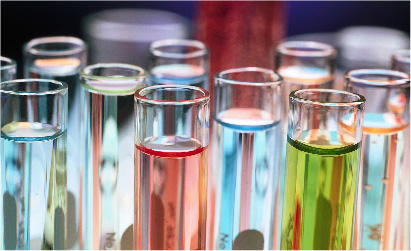 Production and distribution of agricultural products
In addition to importing and selling fresh and processed agricultural products, we are also engaged in the production and sale of vegetables in Hokkaido, based on our rich fund of experience and the know-how developed by the Seiwa Group.
We use only organic fertilizers and to the extent possible produce specially cultivated agricultural products that do not involve the use of synthetic pesticides.
The resultant quality is highly regarded by customers all over the country.